Shares of Ford Motor Company (NYSE:F), the US's second largest automaker, have been in a downward spiral since late July. And that negative trajectory doesn't appear to be ending anytime soon.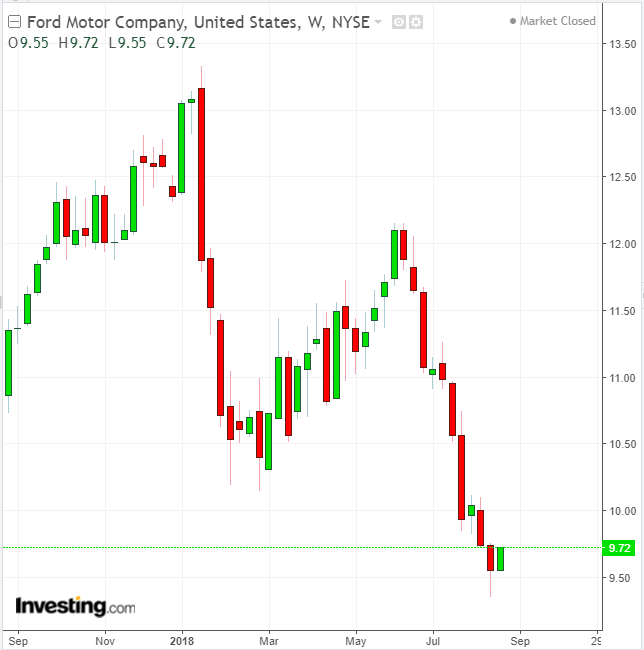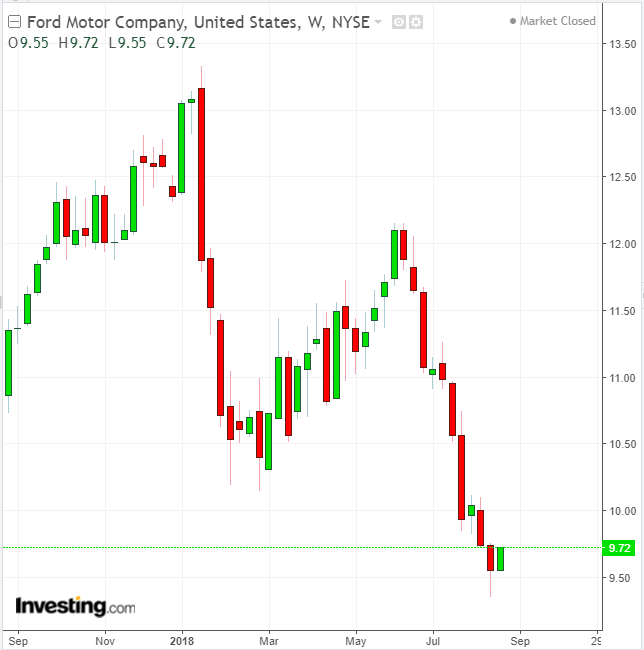 The stock has been trading below $10 a share since July 26, when Ford slashed its profit forecast for the year and warned it could take five years and as much as $11 billion in restructuring charges to fix what's ailing the carmaker. Terrified by this painfully long journey, many faithful investors have shunned Ford, sending it to a level at which it had been trading in October 2012 when the company's turnaround was gaining traction after the 2008 Financial Crisis.
At $9.72 as of yesterday's close, shares have fallen more than 25% from this year's peak, underperforming rivals General Motors (NYSE: GM ) and Fiat Chrysler (NYSE: FCAU ). This massive plunge has taken the stock it lowest point in at least past five years.
Steep Decline Could Threaten Dividend
Ford's precipitous decline has also raised alarm bells about the company's dividend, with many analysts calling it too generous at a time when the carmaker's earnings are rapidly eroding and there are no quick fixes for its problems. Ford's second-quarter net profit fell by almost half, hurt by troubles within the company's Chinese and European markets. Adding insult to already existing injury, the brewing trade war between the US and China may cost Ford $1.6 billion in North America in 2018 alone.
Despite this gloomy outlook, Ford's management is adamant that it still has enough financial power to maintain its 15-cent a share quarterly dividend. "The regular dividend is not at risk, and all those commentaries coming after the quarterly call—while I can understand the sentiment—are all baseless," Ford Chief Financial Officer Bob Shanks told Bloomberg in an interview last week. "We're very comfortable with our strategy on the dividend."
If you're a contrarian investor and willing to bet on this stock, we think there are some compelling reasons supporting this view.
3 Factors Make A Contrarian Case
First, despite the company's poor quarterly results it has more than $25 billion in cash in its coffers. If you include loans, the company has access to more than $36 billion in liquidity. With assets this fluid, Ford has the financial muscle to defend its payouts.
There is no doubt that Ford's core automobile division isn't generating sufficient cash to cover its dividend, but the Ford Credit division, the company's financial services segment, typically generates around $1.5 billion per year for the parent company. That alone would cover about two-thirds of the $2.4 billion yearly dividend payments Ford hands out.
Second, we believe Ford's plans for restructuring are solid and can improve future profitability. The automaker plans to stop selling traditional sedans in the US over the next few years. It's also updating virtually all of its existing crossover, SUV, and truck models and is introducing several new ones. This will eliminate a long-standing source of losses while boosting profitability at Ford's North American division.
As well, we think Ford has a future in a world dominated by driverless cars. As part of the company's transformation, in the next five years, Ford plans to invest $4 billion in a new self-driving business unit. The newly formed Ford Autonomous Vehicles division will cover all of Ford's upcoming autonomous driving efforts, including engineering and systems integration, business strategy and fleet management.
Bottom Line
It's our opinion that Ford's valuation has become compelling after the stock's recent selloff. Shares are now trading at less than six times earnings. That, in our view, doesn't reflect the true potential of the company's business.
At 6.28%, Ford's dividend yield is the fifth highest among stocks traded on the S & P 500 , opening a potentially rich window for long-term income investors. If you have the patience to hang on, betting on Ford's turnaround isn't a bad idea.